Epprovate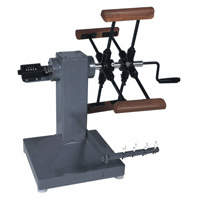 Purpose: To Make small Silk hanks of Standard Length which is used to determine the Denier of the thread. It also can be used for single cocoon reeling.
Specifications: The Epprovate is hand operated and is fitted with an Analog Revolution Counter which can be preset. It is provided with aluminum hub with four spokes in which two are collapsible. The circumference of the reel is I .125 Meters accurately.
We also manufacture Motorised Epprovates.